The ESO Adelante Transfer Peer Mentors are current transfer students dedicated to supporting community college and current SF State transfer students along their educational journeys.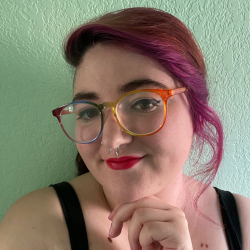 Tatiana Mercier
Tatiana (she/they) is a senior at SF State and is currently pursuing a bachelor's degree in Art History. She transferred in the Spring of 2020 after spending four years at Santa Rosa Junior College.  There Tatiana earned three associate degrees in Social and Behavioral Sciences, Humanities and Art History. They love helping students get connected on campus, educating people on social justice issues, and advocating for inclusive services for transfer students of all walks of life. 
Tip for incoming transfer students: Don't doubt yourself! It can be incredibly nerve wracking to change schools, and that can cause you to doubt your skills. Remember that your experiences are valuable, and you are just as qualified as any other student.
Tip for continuing transfer students: Connect with professors who have knowledge in the field that you want to pursue. Letters of Recommendation for grad school or job opportunities can be incredibly helpful.
I can support students with: Getting involved on campus, advocacy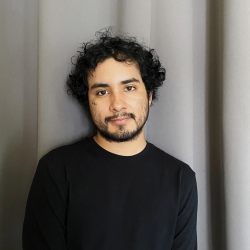 Richard "Teo" Mata
Teo (he/him) is a senior currently pursuing a bachelor's degree in Journalism with a minor in Race & Resistance studies. He transferred from Chico State in Fall of 2018. Some services he found helpful on campus are HPW and the Student Health Center
Tip for incoming transfer students: If any incoming transfer students need some help with off-campus housing, the Facebook student groups really help!
Tip for continuing transfer students: Hungry transfer students on campus on a budget should really consider signing up for Cal-Fresh benefits!
I can support students with: Sharing educational journeys, connecting to resources
Tania Romero
Tania (she/her) is a first-generation college student at San Francisco State University currently pursuing a bachelor's degree in Sociology. She transferred from Chabot College in Hayward, California, and plans to go to graduate school to become a college counselor. Tania has a passion for writing poetry, visiting/learning about different countries, and social justice work. As a transfer peer mentor, she hopes to provide incoming transfer students with program recommendations, course success resources, and self-care tips!
Tip for incoming transfer students: Reach out to students currently attending your new school (through LinkedIn) for advice or questions and investigate programs/resources that can assist you in your transition!
Tip for continuing transfer students: Take advantage of programs on campus and make time to attend workshops and community-building events if possible. The resources you'll find and the people you'll meet through these events will make your time at SF State a lot easier and more memorable.
I can support students with: Connecting to resources, advocacy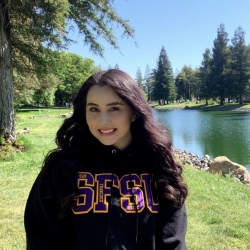 Elizabeth "Lizzy" Luna
Lizzy (she/her) is a proud first-generation, Latinx transfer student! She spent two years as a commuter student at Foothill College and graduated from there with an Associates in Arts for Transfer in Psychology. Since then, she went on to successfully transfer into SFSU last Fall 2020, now anticipating a Bachelors in Sociology with a minor in International Business. 
Tip for incoming transfer students: Never be afraid to reach out for or even simply accept any help- even regarding the smallest thing.
Tip for continuing transfer students: Keep the eye on the prize. I feel that once we reach our goal of making the big transfer that sometimes we hit a period of not knowing what to anticipate next, however, it is SO important to remember to celebrate the achievement and make the most out of this new experience you worked so hard for!
I can support students with: Transition to SFSU, navigating resources, getting involved on campus
Staff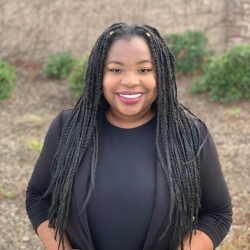 Daja DuBois-Walker (she/they), Project Manager, ESO Adelante at SF State
Daja DuBois is a first-generation Queer Black transfer alum from Solano County, California. After 3 years as a student at Solano Community College, Daja transferred to San Francisco State University in Fall 2019. After her first semester, Daja discovered a passion for studying the human intersectional identities as taught by the Department of Women and Gender Studies. During her undergraduate academic career at San Francisco State, Daja represented the intersections of QTBIPOC transfer students as a Transfer Peer Mentor, a panelist in the SFSU WOC Graduate Panel, a published author in Transfer Magazine, and as a co-facilitator for the Queer Black Lives Matter discussion forum. 
Daja DuBois received a B.A. in Women and Gender Studies and a minor in English Literature from San Francisco State University in Spring 2022. She is continuing with her M.A. in Women and Gender Studies from San Francisco State University.