New Transfers—Make the Most of Your Transfer Credit!
We want to ensure that your previously earned credit applies to your SF State degree appropriately. We need to receive official transcripts confirming course credit from any institutions you have attended since high school in order to provide you with the most thorough evaluation possible. Other types of credit are considered as well. Review these topics to understand more about the steps in our transfer credit evaluation process and how to ask questions and request support
Requests for your official transcripts
After you apply, SF State will email and ask you to send official transcripts from any institution (after high school) where you were previously enrolled or are currently enrolled.
Transcripts from institutions where you're currently enrolled are considered to be partial transcripts.
If you earn grades for courses completed after sending transcripts the first time, you will need to send us complete and up-to-date transcript from the institution(s) again.
Email reminders about transcripts will be sent multiple times. Please keep in mind that once you send us a complete and up-to-date official transcript, you do not need to send it again.
"Complete and up-to-date" means:
All courses have a final grade. 
No courses appear as In Progress (IP).
The transcript reflects any and all courses completed at that institution before you begin classes at SF State. 
The transcript reflects all degrees or certificates earned at that institution before you begin classes at SF State. 
 
The final transcript submission deadline is normally in mid-July (for Fall start terms) and in mid-January (for Spring start terms).
Sending your official transcripts
Each institution has its own procedure for requesting delivery of official transcripts. Many institutions maintain a website for this purpose. 
When you request delivery of your official transcript to SF State, please select the 1st, 2nd or 3rd method below. The 1st method, if available, is the fastest and most efficient. 
If you have the option to select San Francisco State from a list of recipients, this is the most efficient.
If you must select the US Mail option, please verify the address information.
Electronic transcript (non-PDF)
PDF transcript
Hard copy in sealed envelope from sending institution. Unofficial transcripts may not be substituted. Mail to:
Office of Undergraduate Admissions
San Francisco State University
1600 Holloway Avenue
San Francisco, CA 94132
Once we have matched your transfer credit with active articulation data in our system, your Transfer Credit Report (TCR) is ready. SF State will email you to let you know that your TCR is available for your review.
Access your Student Center via SF State Gateway. Navigate to your TCR.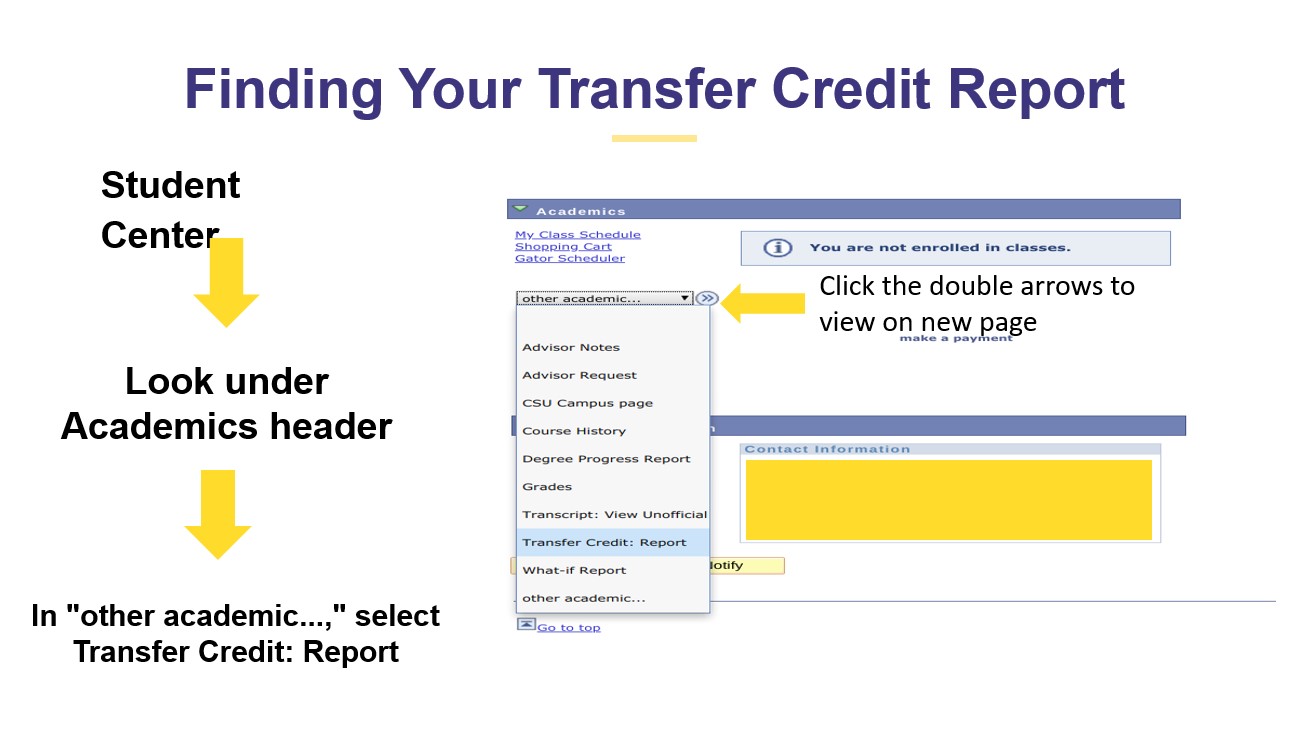 Clicking on icon #1 will expand your TCR so that more fields on the right will become visible. You will see how your courses are being evaluated for GE. 
Clicking on icon #2 enables you to download your TCR into a spreadsheet format that you can save.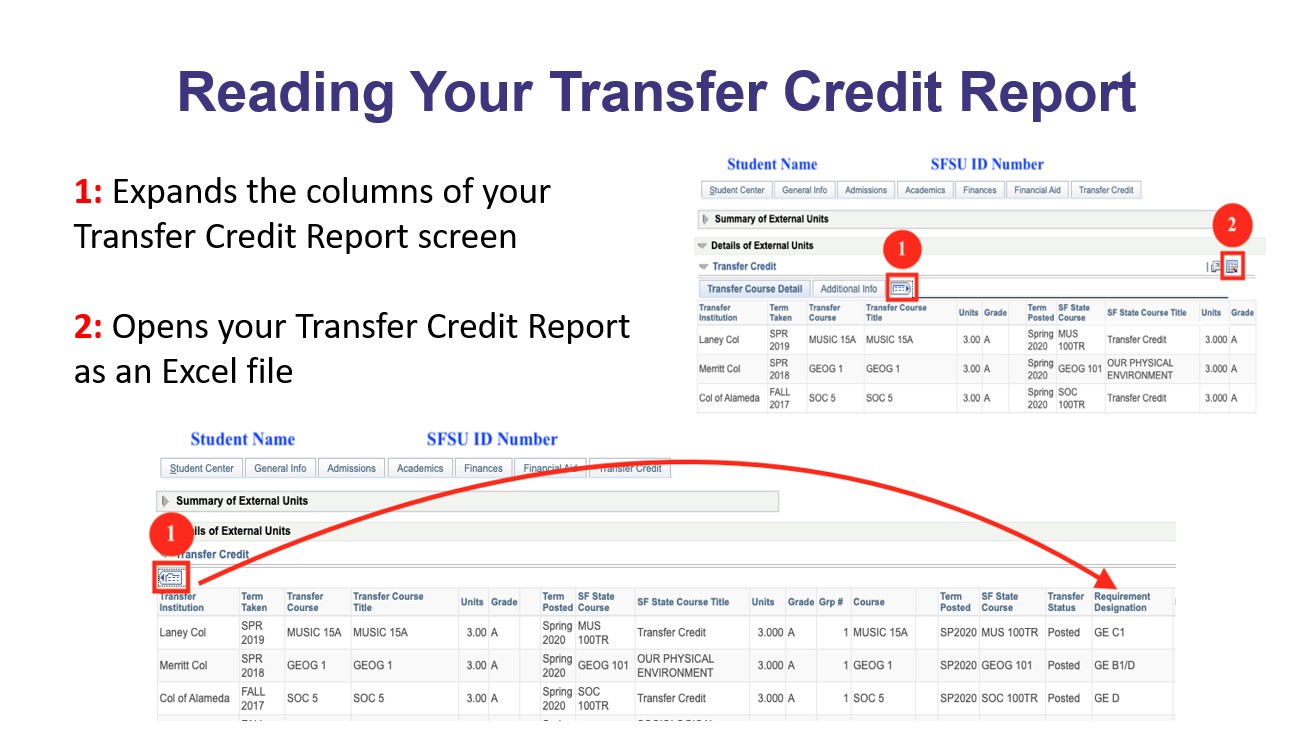 If your TCR shows courses with IP grades, it means you are not receiving units for these courses yet.  You will need to ask the institution to send us another official transcript that's complete and up-to-date.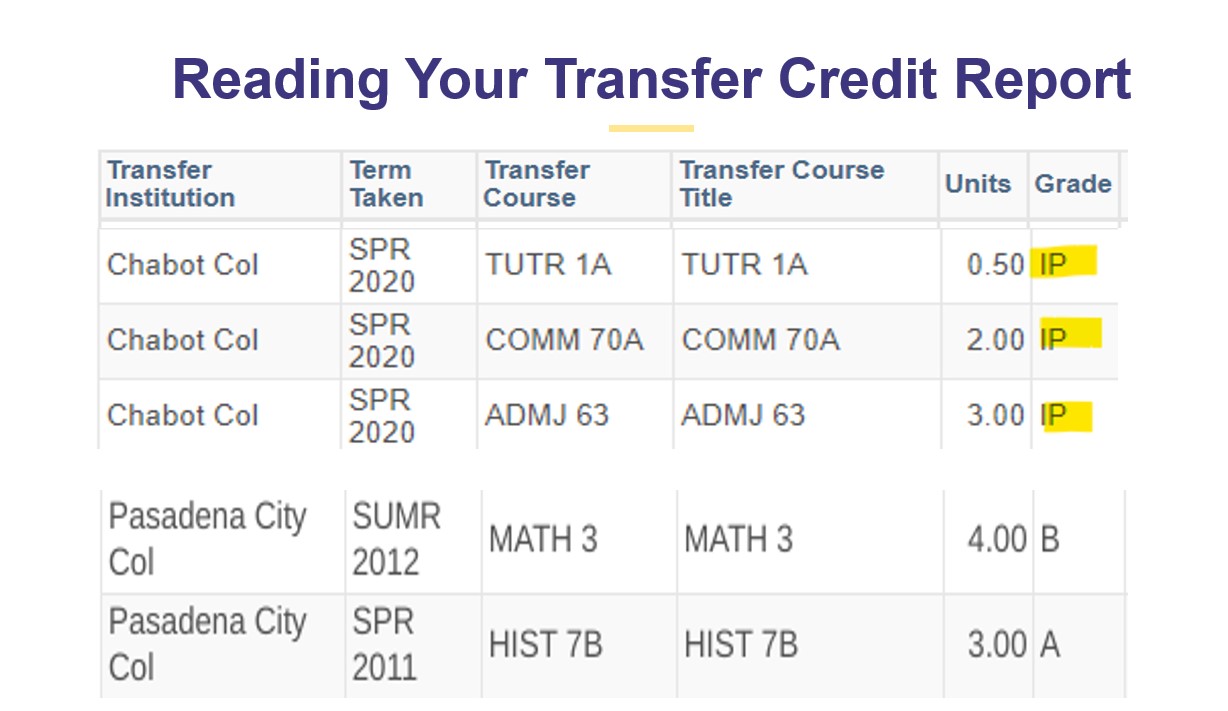 Your TCR will display how your transfer courses have been evaluated, including
GE and/or US History/US Government/CA Government fulfillment (eg., GE B4 or GEC2/D/USH below)

Direct equivalency to SF State course (eg., HIST 121 below)

Elective credit in SF State discipline (eg., MATH 100TR below)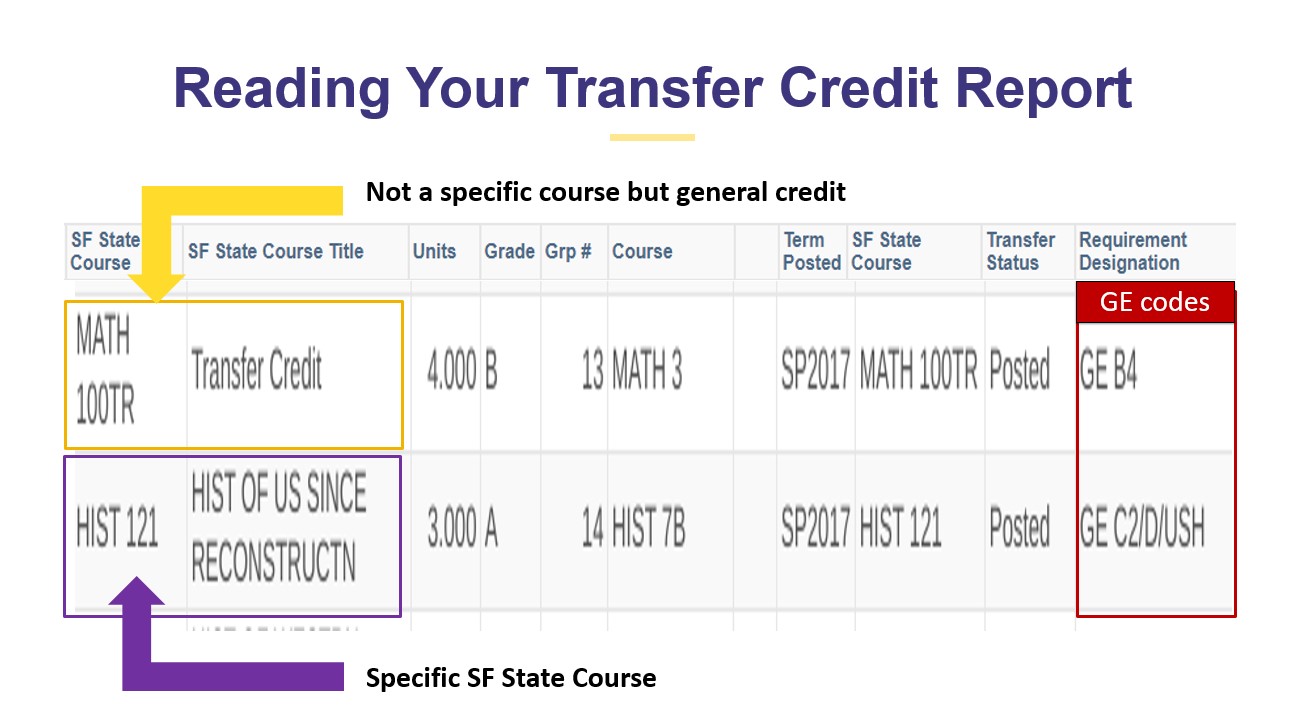 New students (admitted and planning to attend)
Submit questions about the information on your TCR using our Transfer Credit Inquiry Form. Your "TCR is posted" email from SF State will include a direct link to this form.
Continuing students
Discuss questions about your TCR with an academic advisor. Work with a faculty advisor in your major department regarding major requirements. Work with a staff advisor in your College advising center regarding GE or other graduation requirements. Visit the Advising Hub to see the campus Academic Advising Directory.
External Examinations
SF State awards credit for successful completion of Advanced Placement, College-Level Examination Program, and International Baccalaureate exam. The CSU sets minimum score and credit guidelines for GE. SF State faculty make determinations about course credit towards the major.
View detailed information about AP, CLEP and IB credit in the SF State Bulletin.
To receive credit based on your AP, CLEP or IB scores, arrange for your official score report to be sent directly to SF State. Award of credit for external exams is not automatically based on how your previous institution may have articulated credit for these exams.
International
Generally, SF State awards 30 credits for each year of study at a college or university outside of the U.S. Certain limitations can affect this (see below).
Coursework done outside of the U.S. transfers to SF State as ungraded credit (similar to "Pass" or "Fail") and does not count in the SFSU cumulative GPA. 
International credit transfers to SF State as lower-division credit. Based on faculty review and recommendation, a course can be re-coded as upper division if necessary (which is rare). International credit can be applied to major requirements based on review and approval by the major department.
Certain types of international courses and experiences are treated as non-transferable (no credit towards the degree):
Courses below undergraduate level (for example, remedial, foundation, preparatory) 
Courses with content promoting specific religious or political doctrines
Military service on behalf of other countries
Seminar courses completed in other countries
Military
Six semester units are awarded for active duty in the Army, Navy, Air Force, Marines or Coast Guard.  Three of these units can be used to satisfy GE Area E. 
Documents needed to assess credit for military education include: 
Joint Service Transcripts (Army, Navy, Marines, Coast Guard) 
Community College of the Air Force transcript 
DD-214 
SF State follows American Council of Education (ACE) guidelines regarding award of credit on the JST.  Credit is not evaluated for specific course or GE area credit automatically, but elective units in lower or upper division are awarded based on ACE guidelines.
Email ugadmit@sfsu.edu to request JST evaluation for possible GE credit.
Contact faculty in your major department to request JST evaluation for possible major credit. 
Credit may also be awarded for Defense Activities in Nontraditional Education Support (DANTES) up to a maximum of 24 semester units. 
Professional or Continuing Education
Continuing Education Units (CEU) are nationally recognized units for measuring participation in professional development programs which do not award academic credit. Courses taken for CEUs may be appropriate when employers, relicensure agencies and other authorities require a specific number of hours of study and where noncredit study is acceptable. One CEU is earned for 10 hours of instruction.
CEUs cannot be applied to graduation requirements; in other words, courses taken for CEUs cannot substitute directly for courses required for the bachelor's degree.
University policy requires an evaluation of student learning for all courses which award CEUs to determine if academic credit is appropriate. ( For example, credit by exam, or based on an examination of portfolio.)
For more support, consult with an academic advisor. Visit the Advising Hub for a complete campus Academic Advising Directory.
Experiential Learning
In some instances, it may be possible for a matriculated student to earn academic credit at SF State for prior life or work experience for which no college credit has been awarded. This process occurs through the Credit by Evaluation for Experiential Learning (CEEL) Program. CEEL units can be earned as general elective units, may apply to some majors or minors (requires department chair approval), or may be applicable to some GE areas.
View detailed information about CEEL in the SF State Bulletin.
For more support, consult with an academic advisor. Visit the Advising Hub for a complete campus Academic Advising Directory.
Check out the FAQs and other topics important to transfer students and credit.